Oahu's most fun North Shore Activity tour 🥳
We're the tour for those who don't like tours 😎
If sitting in a bus all day driving in a circle isn't your thing, then...
Come get wet, sandy & salty with us on North Shore Oahu 🏄🏽‍♀️
😎 Your Guides...
Kevin
World traveller, 15 year bartender, semi-pro volleyball player, inventor of the sport "battle-boarding," and kids' favourite super hero.
Bo
All-star tour guide by day, DJ by night, and professional Waikiki-escape artist. 
Damo
Professional gardener, non-GMO promotor and all around eco-man. Ask "Hey what's that tree?"...for every tree.
🥳 Your Day...
Coffee Farm
Pipeline Beach
Waimea Bay
Turtle Beach Snorkel
Local Plate Lunch
Shave Ice
Stand Up Paddle
Kayak
Rope Swing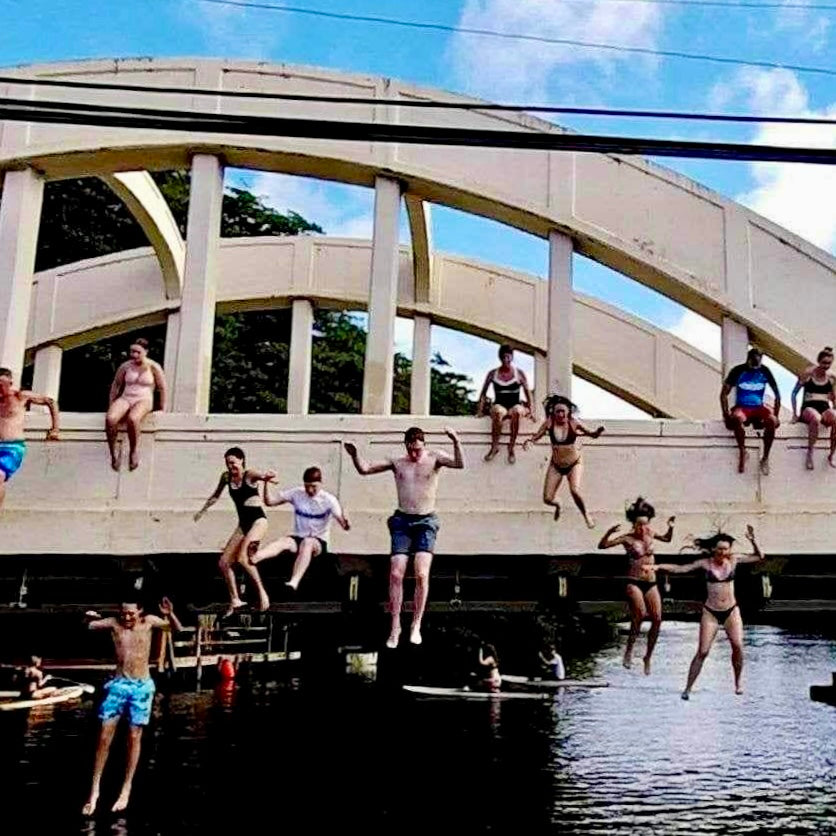 Bridge Jump
Dole Plantation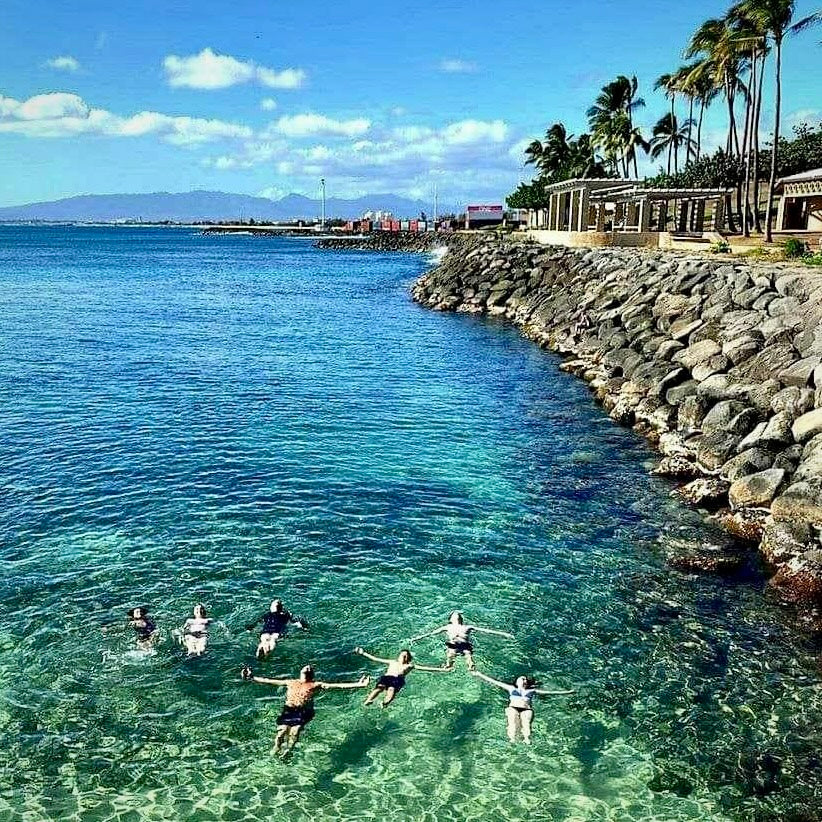 Waterfront Park
$149 Adult (13 years & up)
$119 Child (Ages 7 to 12)
Free (0-6)
To minimize pick-up times and maximize fun time, we carefully chose a small set of convenient pick-up locations in Waikiki, and your hotel will be within a few minutes walk of one of them.
PICK-UP LOCATIONS
7:20 am Prince Waikiki (Harbor-side)
7:23 am Trump International Waikiki
7:25 am Ross on Seaside Ave
7:30 am Alohilani
Be 10 minutes early to pick-ups.
Return approximately at 3:30-4:00.
Included
Coffee Farm
Pipeline Beach
1 hr Waimea Bay Beach
1 hr Snorkel with Turtles (gear included)
Local Food Truck in Haleiwa
Dole Pineapple Plantation
Not Included
$15-20 Plate Lunch (cash or card)
$20 1 hr Stand-up Paddle / Double-Kayak (cash only)
Sunscreen, sunglasses, towels, swimmers, dry clothes, bottled water, GoPro/water case & a smile.
Show up wearing swimwear (some stops don't have places to change.)
Our tour changes with the seasons.
In our summer (May-October)
We have tiny waves (so don't expect to see professional surfers) but we'll get salty and sandy everywhere.
These conditions are great for a lot of water fun at all our beach stops, especially at Waimea Bay, and also make for great conditions for snorkeling with turtles.
In our winter (Nov-Apr)
The waves get HUGE and we're more likely to stay dry at Waimea Bay, Pipeline, and watch epic surfing instead.
There's even a calm place where we can take you to surf tiny waves and it's great for first timers.
You'll have a great time whenever you come, and message Kevo's Facebook if you have questions.
★★★★★

Awesome Day!

This tour was awesome! Kevin and Dom are fantastic and packed in heaps of fun activities, places and a really interesting history lesson as well! Definitely recommend if you want to have a fun day out with 2 badass / cool dudes!
★★★★★

Kevos Beach Bus!

Kevo, Kevin & Damo were absolutely awesome! The tour was so much fun and very educational! We highly recommend Kevos Beach Bus! The best tour I've ever been on. 10000000000/10!
★★★★★

Believe the Hype

First day in Hawaii and I can't think of a better way to kick it off. Bo and Damian were outstanding guides. So funny and equally completely knowledgeable. Everyone had an amazing time while seeing and hearing so much about what makes Hawaii and the North Shore so special. Memories of a lifetime! Mahalo
★★★★★

A must do tour if you like adventure!

Bo and Dom were the best tour guides! We even rearranged our flights to Maui so we could take this tour and we are glad we did! We had 3 teenage girls and 4 adults in our group. We stopped at a coffee and pineapple plantations and then stopped at three beaches which all had their own adventures! We had the best day and highly recommend!
★★★★★

Best experience ever!

9 of us did this tour together, ranging from age 13 to 47. It was so much fun! Our guides were Bo and Dom and not only are they knowledgeable about the island, but they know how to have fun. We laughed the entire time and time flew by. We enjoyed the North Shore so much that we went back a few days later to swim at Waimea Beach again. I highly recommend this tour. It was fun for all ages!
Limited seats = Book now ✅
...unless you're still thinking about driving in a circle all day lol 🤣
⬇️ ⬇️ ⬇️